Law and Rights
Anna Nicole: A Model for Bad Estate Planning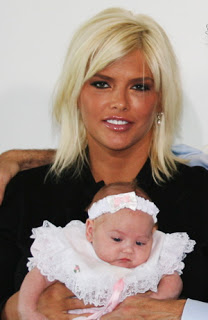 Today's posting is courtesy of Ohio attorney
Ted Gudorf
, whose practice is limited to Estate Planning and his comments about Anna Nicole are remarkable for their timeliness and accuracy. It's a lesson worth learning. It is quite surprising how someone so rich and famous could foul things up so badly.
Anna Nicole Smith rose to fame as a model for Guess Jeans and Playboy magazine. Now, her death has given her newfound fame as a great model for terrible estate planning.

Forget the fact that you can?t visit a supermarket without seeing gossip about her life and death. When push comes to shove, Anna Nicole, the human being, was a single mother who was embroiled in a bitter legal battle over the estate of her ex-husband, and was suffering from the sudden and unexpected death of her son just three days after the birth of her daughter.

When you peel away the celebrity from the person, her legal situation becomes nearly as tragic as her life. She sadly didn?t take proper measures to protect her baby daughter from opportunists finagling to acquire custody in order to have access to her inheritance.

The teachings of Anna Nicole
What can we learn from Anna Nicole?s tragedy?

Lesson 1: Keep your estate plan current.
Anna Nicole?s will was prepared in 2001, before she ever conceived of daughter, Dannielynn, both figuratively and physically. The will leaves her entire estate to her son, Daniel, and specifically disinherits any offspring born after the will was signed. Because she never updated the will after her son died and her daughter was born, the document is invalid and needs to go to probate.

Lesson 2: Hire an experienced attorney.
A licensed attorney in the State of California prepared Smith?s will. But did he have extensive probate experience? A qualified and savvy attorney would have had the foresight to protect her in the event that she survived her son.

Lesson 3: Select a guardian.
It?s always a hard decision to make, because no one can raise your children as well as you can. But it?s imperative to select someone. You can always change it later. If Anna Nicole had named her daughter?s guardian, the lengthy legal battle for custody that is sure to ensue could have been avoided.

Lesson 4: Plan for death-related items.
Very few people enjoy planning for their deaths. Especially if they?re young and beautiful, like Anna Nicole. But if she had taken the time to prepare burial plans, the first phase of her legal battles could have been avoided. (Her mother wanted her buried in Texas, while Stern claimed that she wanted to be buried next to her son in the Bahamas, since she had purchased a double cemetery plot.)

Anna Nicole?s story is as chaotic in death as it was in her life. She leaves behind a rich legacy of what not to do when preparing an estate plan. Few lives are as complicated than the larger-than-life existence that she led. But by studying her mistakes, you can protect yourself from similar missteps by letting that model be a role model to avoid.

(C) 2007 by Gudorf Law Offices, LLC, (937) 898-5583
You can subscribe to Ted's interesting newsletters by clicking here
.
We don't write wills. Wouldn't know how if we wanted to. That's what experts like Ted are for.
Us? We sue car dealers and car manufacturers every day over lemon cars and auto sales fraud. It's what we do.
Burdge Law Office
www.OhioLemonLaw.com
www.KentuckyLemonLaw.com
Helping Consumers, and Consumer Law Attorneys, Since 1978
-
First Divorce Expo In U.s. Aims To ?empower? Attendees
Exhibitors will showcase services to help people dealing with the divorce process By Jillian Eugenios TODAY.com contributor updated 3/30/2012 10:04:51 AM ET Bridal expos have long provided...
-
Mother Arrested After Defying Child Custody Order
Mother Arrested After Defying Child Custody Order On behalf of Edwards & Associates posted in Custody on Tuesday, November 9, 2010 A mother had lost custody over her 1-year-old daughter. She was ordered to turn the baby girl over to the child's father....
-
Prenuptial Agreements And Estate Planning Considerations: ?till Death Do Us Part
Nearly 80,000 Florida residents file for divorce each year. And, Florida has the nation?s highest percentage of residents over the age of 65. Many people enter into a second marriage with significant assets and adult...
-
Deprivation Of Liberty Safeguards
Peter Jackson J - sitting in the Court of Protection - has held that, in the context of Steven Neary's case, certain media outlets may be represented at hearings - see London Borough of Hillingdon v Steven Neary and Mark Neary [2011] EWHC 413 (COP). ...
-
Making A Will? See A Competent Expert ...
Generally, it is desirable to make a will and to avoid the rules applicable upon intestacy (death without a will). When a will is ?executed? (i.e. made) certain strict formalities apply ? (Wills Act 1837). In addition, at the time of giving...
Law and Rights